You have seen some dashboards on Instagram. Your freelancing colleagues are talking about it. You have opened a free account and you are wondering how to get started with Notion? Here are 10 valuable resources you can use to start your Notion adventure.
Official Notion tutorials
For any questions, your first stop should be the Notion official help pages. Start with the "New to Notion" and "Notion 101" sections and work your way up! Presented through short videos that take you through the actions you can take with different elements of the workspace, their information is great and immediately applicable to help you get started with Notion.
The Notion Community page
Are you looking for friends and professionals who can help you? I will introduce you to a couple of them in a second, but first, you can have a look at the official Notion Community Page. You will find lists of groups and communities in a variety of languages. It's a great way to join like-minded people and maybe, one day, become an Ambassador.
Marie Poulin and other certified consultants
A certified Notion consultant is a specialist who knows all the ins and outs of the product and who has a great track record of helping others out. It means that they have been active within groups and have designed solutions for other users.
There are very few of them and you can find the full list here. The most famous is Marie Poulin, who runs Notion Mastery, an exhaustive "build along" course that will teach you how to design the perfect workspace for all areas of your life. The course also gives access to a great community on Circle, as well as office days and regular training webinars. I joined last year and I can vouch for it.
Ambassadors like Sarah (Red Gregory)
Sarah, better known as Red Gregory, is one of the most famous Notion tips providers out there, notably through her blog, stock-full with tips. It is usually one of the first links that come up when you google questions like "how to create a progress bar?" or "how to calculate a date?".
She posts "build with me" tutorials on YouTube that will guide you through the creation of libraries or daily action dashboards. I love her minimalist approach and she also talks about note-taking or solutions like RemNote. You should definitely turn to her if you want to learn more about formulas.
Reddit
There is a Notion subreddit! There, you can ask questions and see other notioneers flex their beautiful pages or dashboards. It's a great place to draw inspiration from and discover template creators.
Facebook groups
You will find many Facebook groups on the Notion community page. The first one to join is Notion Made Simple.
Joining several Facebook groups for Notion will give you constant access to new content, keep you informed of the new features, and allow you to get almost instant answers to your most basic or pressing questions.
Discord groups
I'm less of a fan of Discord, as I find it difficult to navigate, but you can find Notion specialised Discord servers in many languages. Sometimes, a group made for your profession by your colleagues will contain a section about Notion! This happened to me with the Discord for French-speaking translators.
First, find a Discord server on the Notion community page. Then, you can post a question to your network on LinkedIn to ask them if they know of a good server to join that you might find useful.
Instagram accounts with tips
One of my favourite Instagram accounts out there is Dave, The Notion Coach. I bought his Manifest planner in 2022 because I have been struggling to create a good review system and I was absolutely appalling at creating proper objectives and results. Verbalising my goals and setting a timespan for the project was okay. But which metrics to monitor? Which is the best view? How do I sort my views?
To find content on Instagram, search those 3 hashtags: #notion, #notionapp, #notiontemplate. Then explore!
Template shops
Gumroad is a great site to find whatever ready-made solution you want. However, the official template gallery is a great way to get started with Notion. Free or costing a few dollars, there are templates that can answer virtually all your needs.
I even got mine published there! Click here if you want a simple library template for free!
Being able to use Trello, Excel and formulas
Finally, great resources to have when you get started with Notion are simply your skills. Are you making the move from Trello? Kanban boards will have no secrets for you. Do you use Excel in a professional setting? Formulas will be easier for you to master. Have you used Asana, Todoist, Evernote or ClickUp? You will master Notion in no time.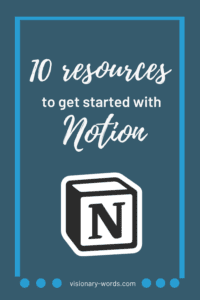 Last words
Notion is not only a tool, it is also a great community of people who have found themselves in that tool. Even if you are finding it daunting at first, you are never alone when you are using Notion, and resources abound.
And remember, if you want to start managing your Library straightaway, download my free "Knowledge Hub" notion template by clicking HERE.