I'll let you in on a little secret that will be very useful to authors who want to get their books translated. Here it is: sometimes, you need to change your cover as well, in a process called "localisation". Different countries have different expectations, morals, taboos or affinity with colours and symbols. That is why it is very important to adapt your book cover to your target market.
First of all, I want to start with a disclaimer. I had been told in the past that online platforms had some specifications if you wanted to get promotion within your genre. I've had one of the writers I work with tell me (confirmed by several other sources) that a specific online bookseller refused to promote romance novels that did not showcase a couple on the cover. I also heard indie authors who write M/M or interracial romances complain that this puts them at a disadvantage, as appropriate stock pictures were difficult or more expensive to find. I have heard that in order to get an attractive cover that would comply with the rules, some writers had to organise their own photoshoots.
I don't know if the rules have relaxed a little bit now. What I know, however, is that you have to test the waters of your target market before you launch your translated book, so that you will not shock your audience, while attracting their attention in a positive way.
Torsos?
Yes, I just said that.
Readers have their favourite writers or series, but they are always discovering new books. So when they visit their bookstore or browse an online store, they need to be attracted to the cover before they make the effort of picking up the book or clicking. This also means not creating negative prejudices.
The main example in this regard concerns romance novels. It's no secret that the French publishing world can be elitist and there is still a huge bias against self-publishing and, to a certain extent, digital publications. However, romance, thriller and fantasy are niche genres that are thriving, and you can hope to be noticed if you really work on your covers.
One thing is certain, though: naked male models are not popular in France. Kitsch covers are not regarded highly and nudity is frowned upon, not because of a particular taboo, but because it is objectifying and associated more with erotica than romance.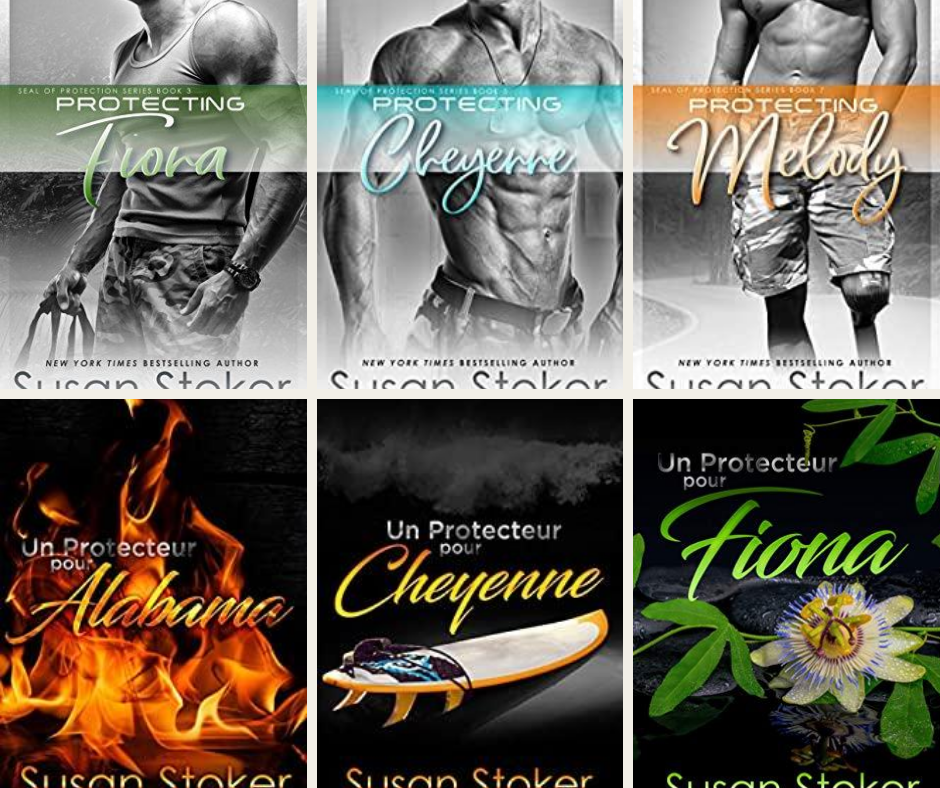 For example, have a look at the different covers for a series I have translated (see my Portfolio). In each SEAL of Protection book, the hero, a Navy SEAL, meets a woman that he will have to protect. The US original edition chooses to present a generic male character in a state of undress, whereas the European editions showcase an element of the plot or an object referring to the life, job, nickname or personality of the protagonists. Due to the topics, that series can sometimes take a very dark turn and deal with such things are child abuse, human trafficking and drug addiction.
What do you think? Which covers do you find more enticing?
Tell a story
Historical novels and romances tend to introduce more historical elements on their covers, rather than a couple or a kilt-wearing Highlander with a castle in the background. The photos are professional; sometimes, the author sets up their own photo shoot in costume in order to get a professional and sleek cover that is unique to them and their brand or series.
Let's look at those 6 covers. One of them (one of my translations), is using slight nudity (okay, a wardrobe malfunction), while the others are focusing on historical elements or simple portraits.
Which ones do you prefer? Can you tell which time period the story is set in?
For the cover on the bottom right corner, the same style with one or two pictures + a block of text is used for nearly all the books released by the publisher, regardless of sub-genre, making it easier to identify the company, across collections and authors.
Check the waters
Before you commit to a cover for your translated edition, I would advise you to spend some time browsing a marketplace like Amazon and check what the books look like, just to have an idea of the style, the colours and the fonts that are used. It will be easier to adapt your book cover to your target market if you know what's being done.
Here are the links for the top 100 bestselling books on Amazon France and Italy.
https://www.amazon.fr/gp/bestsellers/digital-text
https://www.amazon.it/gp/bestsellers/books
A few last words
I hope this short article convinced you that part of the translation process for your books also means adapting your covers and be willing to create a brand-new look.
If you want to get more inspiration, here is an article (in French) presenting some of the best covers of 2019. You can see that writers sometimes love to work with graphic designers and artists, and that minimalism is in vogue.
Do you want to sell your translated novels on foreign markets? You can connect with me. I can also help you translate your website, your social media posts/hashtags, and all your marketing and press materials. Don't hesitate! Start today!