There are many tools out there that will help you manage your contact list, and we can all agree that when you are an entrepreneur, this list can reach hundreds, if not thousands of entries. As a Notion enthusiast, I would like to show you how to create a People Database for a CRM dashboard.
SELECT THE RIGHT PROPERTIES FOR YOUR PEOPLE DATABASE
The first instruction is easy. First, create a new page in Notion. Then…
Create a People database
This database is the cornerstone of your dashboard. Technically, it is the only one you need, though it will be more useful if you link it (Relation) to a Tasks and/or a Projects DB. I will talk about it later.
Add the right properties
First, add contact details
Name: in the title of the entry
URL: single or multiple URLs. You can keep track of a website and several social profiles (YouTube, Instagram, LinkedIn…)
Bio: A text property where you explain who they are in a few words
Email: Select the @ property and gather those emails!
Remember that you can export select database entries to CSV! If you want to keep only contact details to transfer them elsewhere, it's perfectly possible. Hide the columns you don't want in Table view, then click on the three dots on the top right-hand corner, then Export. It will export only the info that you want and not everything.

Add a profile picture
A picture will make it easier to manage your contact list.
There are 3 places you can place a picture:
The icon
The cover
The top left-hand corner, inside the content section
If you choose the two last options, you will have to change some details when you select the Gallery layout, as you have to select which one of the two you prefer working with.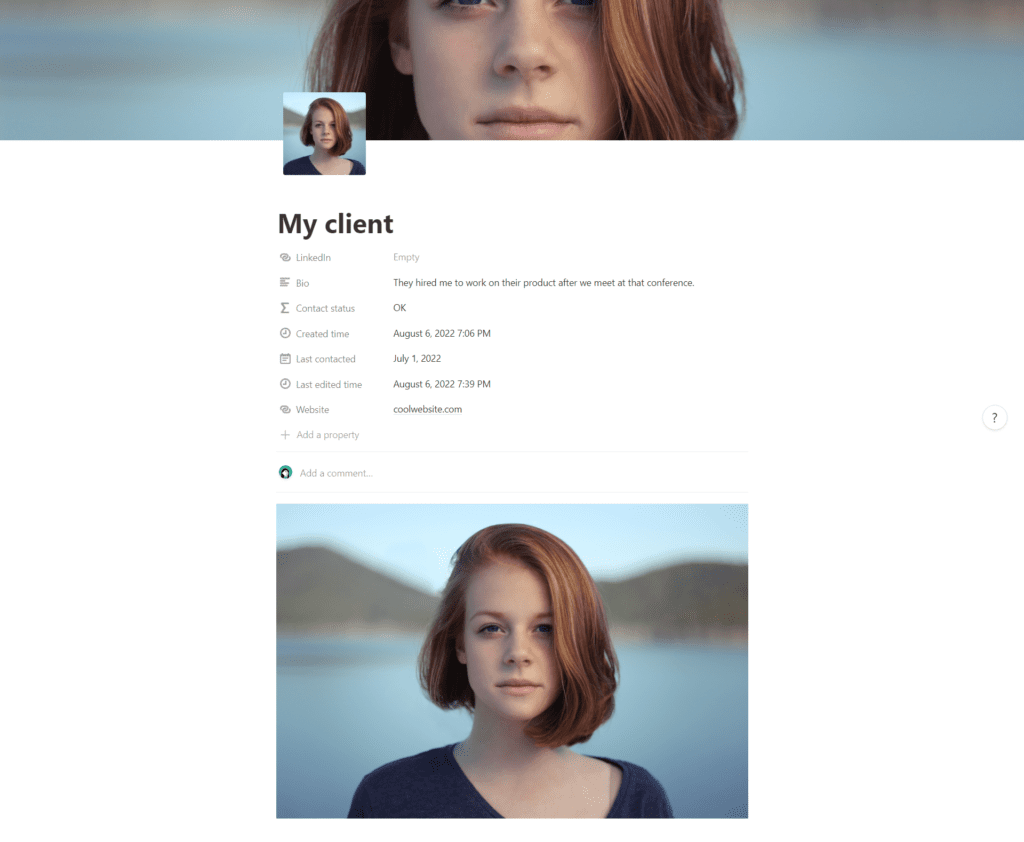 Keep track of time details
Add "Created time" and "Last edited time" property. Then you can hide them indefinitely. They will become invaluable for sorting and filtering reasons when you start building a dashboard.
Add a "Last contacted" property. This will be useful with a formula that will act on this date. For example, decide that you should contact everyone every two months.
Create a "Contact status" property with that formula:
if(dateBetween(now(), prop("Last contacted"), "months") > 2, "Reach out!", "OK")


Select a status for your relationship
"Associations" is a nice category to have. Create a Multiselect property and add as many choices as you need. For example Family, Friend, Inner Circle; Ex-colleague, Colleague, Client, Supplier; School… You can also add Online Community, Mentor, Language class, Gym, or any place where you socialise.
"Status": In 2022, a new Status property was launched. It contains 3 categories: To-do, In Progress and Complete. Of course, you can add as many sub-categories as you want.
As a nice gesture, write down what you talked about last time or what your message was about.

MANAGE YOUR CONTACT LIST BY CREATING RELATIONS TO OTHER DATABASES
Here are other DBs you can link this one to:
Your tasks: You can link some people to recurring tasks. For example:
Monday: Research
Tuesday: Prepare your documents
Wednesday: Send your cold or follow-up mails
Thursday: Follow up with a confirmed contact
Friday: Contact a friend
Your tags: Adding tags will help you manage your contact list better. Add tags about their job title or their areas of interest. For example, you can add an xl8 tag for your translator.
Your Knowledge Hub: Are your contacts writers or creators? Did you see them mentioned in an article? Add a relation to your library database.
Your documents: Link to your CV, your cover letter template, your brochure and whatever document you may need to write an effective mail.
Your projects or jobs: If your contacts are mostly clients, colleagues or suppliers, you may want to link them to the database your use to keep track of your professional projects. In order to create a view of only professional contacts, you have 3 solutions: Add a "Professional contact" tag in your "Associations" category Add a tag in the "Tags" relation Create a new tickbox property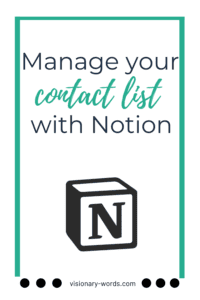 Last words…
I hope that this post will help you manage your contact list better. Remember that you can go to the Notion official template shop to find a good FREE CRM template.